Sports Blog
Recent Competitions
Some competitions we have been to recently:
Year 3 - 6 Swimming Gala - Thursday March 30th @ Inspire
Year 3 & 4 Adventure Games - Thursday 23rd March @ Queen Elizabeth School
Sportability SEND festival - March 22nd @ Inspire
Year 5 & 6 This girl can festival - March 8th @ Inspire
Year 5 & 6 Multisports - badminton, volleyball, table tennis & archery - February 1st @ Inspire
Steve Frews Professional athlete school visit - January 31st
Year 5 & 6 Sportshall athletics town finals - January 11th @ Inspire
Spring 2023
Sponsored Fitness Circuit
On Tuesday 31st January we welcomed the professional gymnast Steve Frew to our school to lead a sponsored fitness circuit with all of the all pupils. Steve Frew is a British artistic gymnast who has represented both Scotland and Great Britain over 100 times at various international competitions. Our visit started with Steve leading a fitness session to get all the children exercising together and having a good time. This was followed by an inspirational whole school assembly aimed to encourage children to discover and pursue their passion in life. The children had a great time and managed to raise money to help purchase new sports equipment.
Sportability
On Wednesday 22nd March a select few children were chosen to take part in a Sportability festival. The festival was a non-scoring event aimed to help the children play, learn and experience a wide variety of sporting activities. The focus was solely on taking part and having fun. The children took part in archery, boccia, playbat as well as volleyball. They had an amazing time and it was great to see the older children look after the young children and support them through the activities. Great job everyone, well done!
Multi Sports
It was a great term for sport filled with a variety of events and activities. During Spring term, eight children were selected to represent Ferrars at a Multi Sports competition. The selection of year 3 and 4 children took part in a carousel of events including badminton, volleyball, table tennis and archery. The children represented the school in a fantastic light and it was great to see some of our previous cohorts leading the activities and setting a great example to all.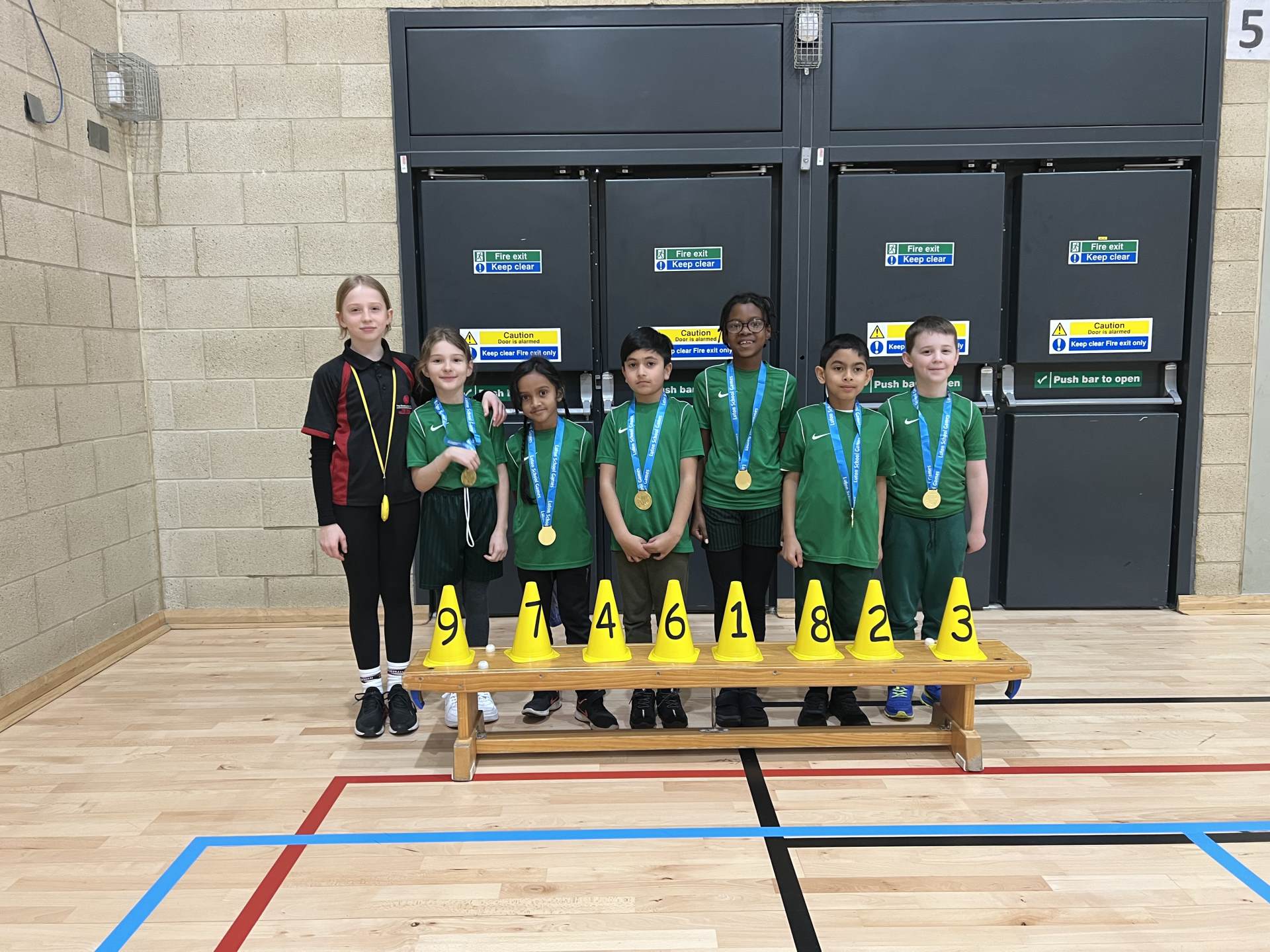 Autumn 2022
Football - Away Vs St Martins
On Thursday 17th November had an away football match against St Martin's primary school. After a short walk and warm up the game finally got started. The team were all very nervous, started slow and ended up conceding an early goal from a mistake. As the game went on, the team's confidence steadily grew and Dima scored a great goal to even the score. Unfortunately, just before the half St Martins took the lead again. During the half time team talk the team took ….. Early in the second half Gurtej scored to make the scores 2-2. With great determination and resilience the team kept pushing and Zaid scored an amazing last minute goal! Ferrars won the game 3-1!
Netball - Home Vs Riverbank
On Wednesday 16th of November we took part in our first league fixture of the season against Riverbank primary school and the girls were determined to get off to a winning start. The match started slowly, but soon enough the nerves settled and they began to use a variety of skills and techniques they had been taught during training. The girls took the lead in the first quarter and from there the teams confidence continued to build and they went on to victoriously win the match 7-1. A huge well done to all the girls who took part.
Sports Hall Athletics
This term the year 3's and 4's as well as the year 5's and 6's competed for the school at the Luton School Games Sportshall athletics. The children had to compete with the best local athletes their age in the local area. They took part in a number of events including the standing long jump, standing triple jump, javelin, vertical jump, chest push, obstacle relay, over and under as well as a number of races. All children tried their best and represented the school in a fantastic light. Unfortunately, the year 3 and 4 team did not manage to qualify for Town finals, however the year 5 and 6 did an incredible job and qualified for the Town finals in January 2023. Huge well done to everyone who took part.
Swimming
Even before the coronavirus pandemic around one in four children could not swim the statutory 25 metres when they left primary school – and it is feared that could rise to three in five children by the 2025-26 academic year. Swimming and water safety is a vital life skill that every child should have and for this reason all children will be learning to swim each academic year. During the autumn term, the year 4 children have been walking to Lewsey swimming pool and focused on performing basic safe self-rescue in based situations, swimming 25m or more competently, confidently and proficiently, as well as using a range of strokes effectively e.g. front crawl, back stroke and breaststroke. Next term year 5's will be swimming followed by years 3 and 6 through the summer term.